Artists: Submit to The Blooom Award by Warsteiner by 31 July
You don't have to be a fan of beer to love Warsteiner, Germany's largest privately owned brewery, which has now been owned and operated by the Cramer family for 264 years. Brauerei Warsteiner has had a close relationship with the arts for more than thirty years – starting with Andy Warhol, who immortalized the Warsteiner Pilsner glass to help launch the Warsteiner Art Collection. In 2010, Warsteiner established The Blooom Award to offer young creatives in Germany a chance to get their start in the international art market. Since 2012, the competition has been opened up to artists all around the world in the fields of art, design, urban art and film. Applications are due by 31 July.
A one-year mentoring support, a trip to Art Basel Miami Beach, Art Basel Hong Kong or Paris Art Fair, a gallery exhibition – these and many more exciting prizes await you at BLOOOM Award by WARSTEINER. More details on the award prizes can be found here: http://www.blooomawardbywarsteiner.com/Prizes
In 2013, more than 1,100 creatives from 55 nations applied, and last year, more than 2,000 applicants from 84 countries set a new participant record. For the 2017 edition, organizers have introduced a brand new category: music videos. Also worth noting, winning entries will be featured in the premiere of Art Düsseldorf, set to run 16-19 November at the Areal Böhler in Düsseldorf. The winners of this year's competition will be announced on 15 November during the official opening of Art Düsseldorf's Blooom – the one artist show.
The ultimate goal of the Blooom Award by Warsteiner is giving artists and other creative types long-term support for their ongoing careers. To learn more, visit http://blooomaward.com.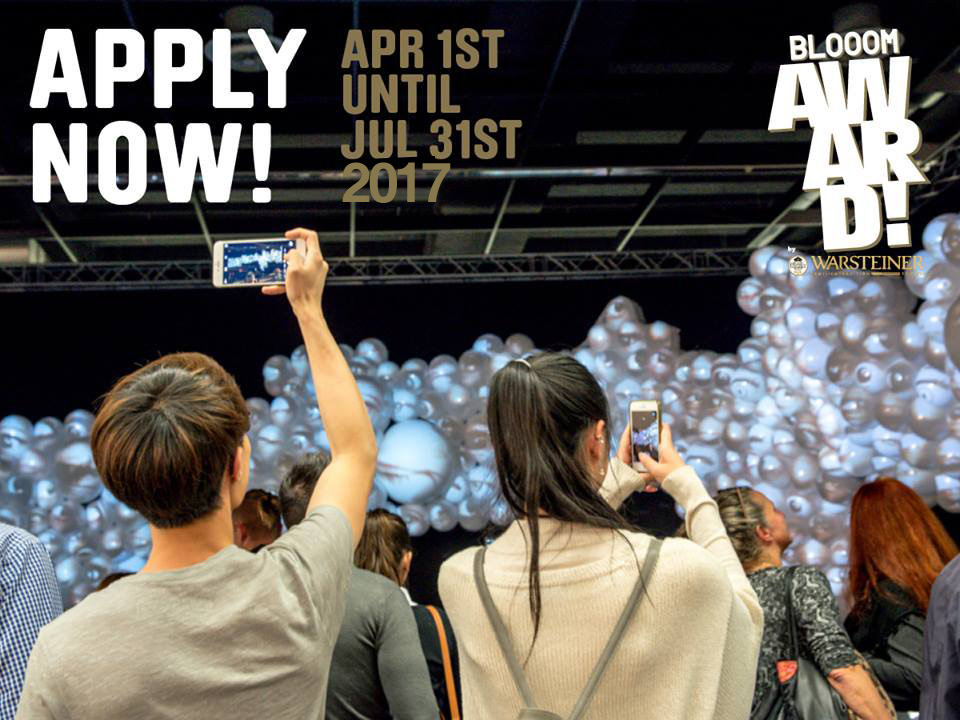 Featured Video: Blooom Award by WARSTEINER 2016