Case Study: Leviathan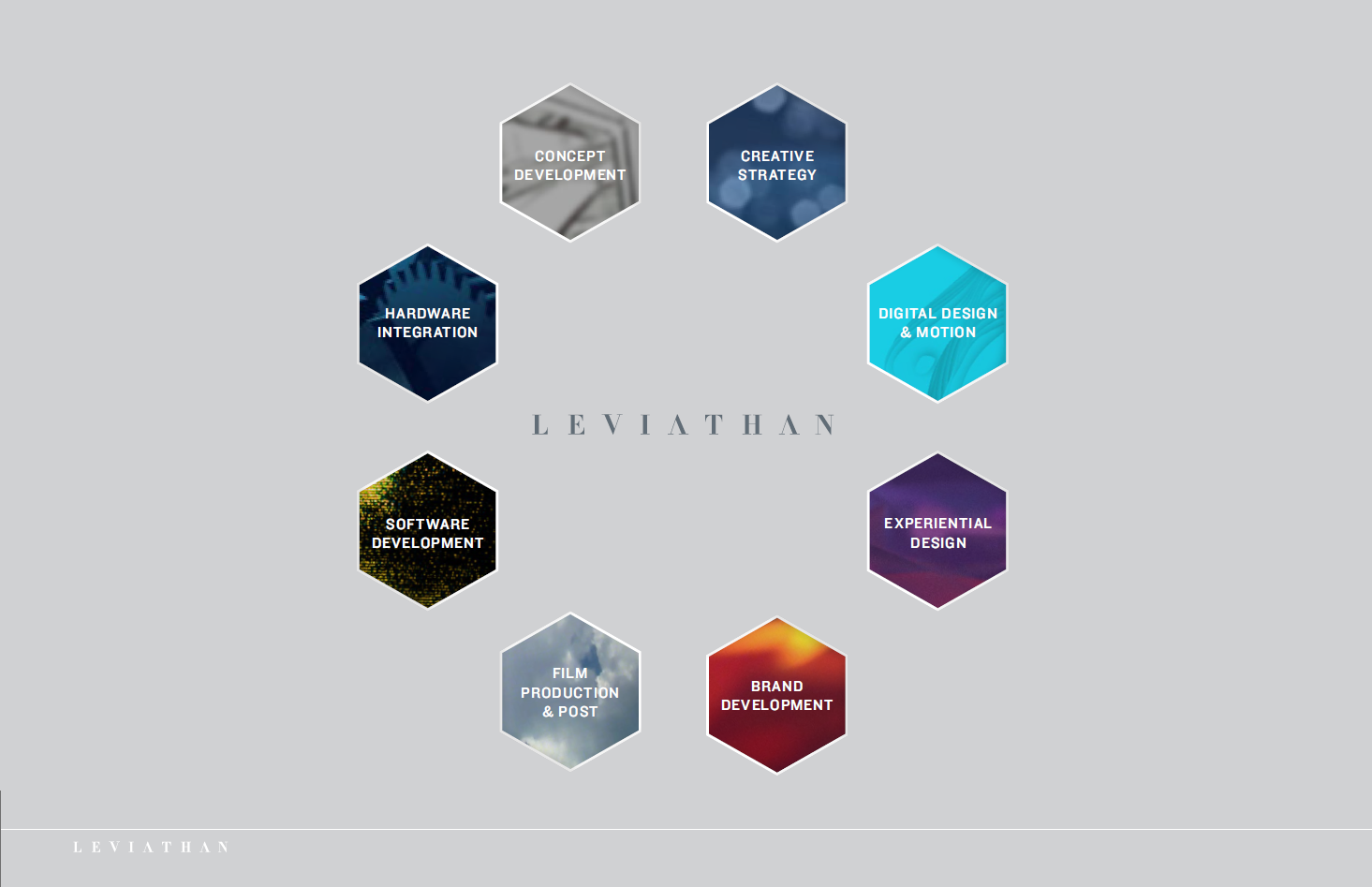 Leviathan's Reputation Soars Worldwide as Phenomenal Conceptual Design Company Rocking Broadcast, Experiential and Screens of All Sizes
Close Cooperation Between Management, Reps and DWA Maximizes Stellar Opportunities, Positions Company as Legitimate Rockstar
See also: VISUAL TIMELINE . MEDIA COVERAGE . PRESS SITE

Leviathan is a conceptual design company that creates engaging narrative content and experiences for brands and entertainers worldwide. The bold images it conceives appear on stages and architecture, in themed destinations and on screens of all sizes, accompanying famous faces and household names. Its teams build experiences to enthrall audiences, initiate conversations and keep crowds coming. Every day, Leviathan's artists and engineers help transform the worlds of commercial advertising, live events, film, television and environments.
Executive Summary
Leviathan opened in Chicago in 2010, and before that first year ended, the company principals had enlisted DWA as their firm's PR agency of record. These key players brought together a great deal of experience, and many past relationships were already factoring into new business developments for the studio, which was making serious headway in the fields of animation and motion design. Beginning with strategic promotion of top-shelf project works and their underlying networks, Leviathan was soon on a highly original path, adding all-star talents and earning global accolades for its innovative applications of emerging technologies like projection mapping and Kinect-hacking in service of top entertainers, brands and agencies.
Challenge
Beginning early in 2011, DWA was charged with planning, designing, developing and executing a strategic, cost-effective ongoing public and media relations campaign to support Leviathan's greatest project and business achievements, while also extending relations with key clients, vendors, business contacts and fans worldwide.
Approach
Leviathan's President Chad Hutson and Executive Creative Director Jason White are both extremely bright professionals with considerable strengths spanning management, production, animation, technology, experiential design, creativity and customer service at the highest levels. These complementary talents have learned to attract and pursue projects that inspire and challenge them, and to operate a business intelligently, with ambitious goals for long-term success. Fans of using sustained high-level PR approaches to design and lead marketing plans, these leaders graciously attuned their day-to-day workflows to prioritize and emphasize smart media relations efforts. As a result, topical news releases and inside scoops are actively managed and distributed to targeted media contacts around the world. Both men's interests in speaking engagements are also weighed-into ongoing campaign activities, regularly identifying, pursuing and promoting involvement in industry outings. Through these efforts, Leviathan has used PR to address its sales and marketing priorities while proactively conveying its story and even subtly shapeshifting over time in response to industry dynamics.  All the while, the company has also maintained a stellar roster of staff talents, freelancers and business partners.
Results – Highlights
. Throughout the campaign, news of the company's project achievements has regularly reached around the world, as one major project builds on another, and Leviathan's self-directed arts, cultural and innovative ventures attract new legions to its expanding fanbase.
. Among Leviathan's most high-profile projects to-date are Amon Tobin's "ISAM Live" – which earned the FITC Best Animation Award, honors in the Communication Arts Interactive Annual and was shortlisted in the AICP Next Awards – along with other buzz-worthy feats for musical artists Mikky Ekko, Drake and Skrillex… and major brands including Airbus, BMW, HP, Jabil, Samsung, Scion, The North Face and Vimeo, to name but a few.
. At the 46th WorldFest-Houston International Film Festival, Leviathan's original short film "Lilith" was honored with the Platinum Remi Award for Visual/Special Effects.
. Since 2012, Leviathan's works have appeared in prominent media outlets including Ars Technica, Art of the Title, Billboard, Choi's Gallery, Communication Arts, Computer Arts, Creative Review, Creativity, Dexigner, Digital Arts, Etapes, Fast Company, Forbes, Gizmodo, Graphis, Motionographer, shots, Stash, The Creators Project, and Wired.
. A guest presenter at recent SXSW Interactive and InfoComm events, Chad Hutson and Jason White continue raising the company's profile by presenting at leading industry conferences around the world like Autodesk University (Las Vegas), FITC (Amsterdam, Chicago, NYC, Toronto, Tokyo), HPX Digital (Halifax), Collider (NYC), Pause (Melbourne Australia) and North by Northeast (Toronto).
About The Darnell Works Agency
Now in its third decade of developing highly successful marketing, PR and media strategies, the Darnell Works Agency is the go-to PR firm for creative agencies, brands and entertainment ventures. Offering unmatched writing talent and inside media-expertise, agency principal Roger Darnell sets his clients apart atop their industries. Already central to billions of positive media impressions worldwide, the agency's collaborations with leading business executives and media luminaries continue soaring to new heights.

For more information please visit http://darnellworks.com.