Join the fun at FITC FORM Fest, 2-3 Nov. in Chicago
FITC has a 14-year history of uniting leading design and technology professionals and students in Amsterdam, Chicago, Los Angeles, New York, San Francisco, Seoul, Tokyo, Toronto and other major international cities, but its last event to hit Chicago was back in 2008. On Nov. 2-3, a brand new Chicago-centric event conceived and produced under the auspices of FITC and its founding director Shawn Pucknell will take place at the Chicago History Museum. Entitled FORM Fest, the conference is aiming to be a landmark gathering of digital creators and technologists who are passionate about creating innovative work.
The impressive line-up of speakers includes bona-fide design-industry stars from elsewhere – like Stefan Sagmeister, GMUNK, Jared Ficklin and Rama Allen – but also local heavyweights like Erin Sarofsky, Jason White (Leviathan), Kim Alpert, Chuck Anderson and Chicago Design Museum's executive director Tanner Woodford, among many others. Other featured speakers include Anton + Irene, Nicholas Felton, Jason Peterson of Havas Worldwide, Carlos Segura of Segura, Inc., and Anthony Vitagliano of Digital Kitchen.
Alpert and White are both past FITC speakers, and with support from conceptual design company Leviathan, they worked closely with FITC to create FORM and custom-tailor it for Chicago's booming creative community. "The core idea behind FORM is to focus on the inception of concepts," Alpert explained. "Before any project has become, it begins with an initial idea. That's what FORM is all about." Leviathan's designer Alexis Copeland created the conference's logo and the many collateral elements, while artist and designer Chuck Anderson designed the poster. Meanwhile, Optimus Design creative director Donnie Bauer spearheaded creation of the main titles, a collaboration involving Pulsetrain composer Dustin Camilleri.
If you act quickly, Stephen Price of the venerable Stash Magazine is currently running a promotion offering free tickets to the event. If you miss out on that, you can use promo code STASHMEDIA to save $100 off full conference admission here: http://fitc.ca/event/form/tickets/.
Please let me know if you plan to attend and I will look forward to seeing you there.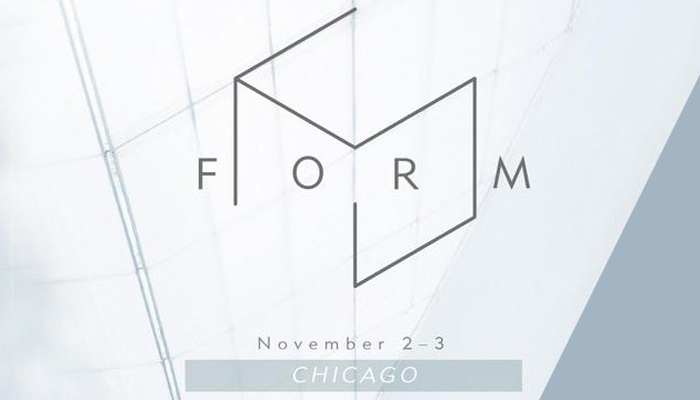 Featured Video: FITC presents FORM // Explore Creation // Chicago 2015 // Titles Teaser