ADCOLOR Conference, Awards and excitement hit NYC 16-19 Sep.

This week, the ninth annual ADCOLOR(R) Industry Conference and Awards will rock Chelsea Piers, uniting leaders and change-makers from the advertising, marketing, media and communications industries to rise up and reach back in countless exciting and vitally important ways. A 501(c)6 nonprofit organization, ADCOLOR champions diversity and inclusion in creative industries. The schedule is filled with festive and formal social engagements advancing ADCOLOR's vibrant FUTURES program, with gala conference events running through Saturday. As highlighted below, many of those are awards-focused, set to honor dozens of amazing people. To learn more and register to attend, visit http://adcolor.org.
Here are just some of the 2015 ADCOLOR Award honorees and nominees.
. 2015 ADCOLOR Lifetime Achievement Award Honorees: Catherine L. Hughes, Founder and Chairperson, Radio One, Inc. (2015 AAF Advertising Hall of Fame Inductee) and Bethann Hardison – Model, Founder of Bethann Management Co. Inc., Producer & Fashion Advocate.
. 2015 ADCOLOR Change Agent Nominees: Will Chau, Creative Director/Art Director, GSD&M; Kat Gordon, Founder, 3% Conference; Brandon Rochon, SVP, Creative Director and Wells Davis, EVP Strategy Director, Leo Burnett Advertising.
. 2015 ADCOLOR Innovator Nominees: Julie Ann Crommett, CS Education in Media Program Manager, Google; Jerome Austria, EVP, Digital Executive Creative Director, Deutsch, Inc. LA; Stephanie Rance, Digital Marketing, Social Media and PR Manager, Family Dollar.
. 2015 ADCOLOR Rockstar Nominees: Luvvie Ajayi, Owner, AwesomelyLuvvie; Ingrid Otero Smart, President/CEO, Casanova Pendrill; Brandon Rochon, SVP, Creative Director, Leo Burnett.
. 2015 ADCOLOR Rising Star Nominees: Justin Adu, Creative Lead, Open Channels Group PR; LaTanya Ware, Business Affairs Manager, 72andSunny; Haywood Watkins III, Fellow, WPP Group.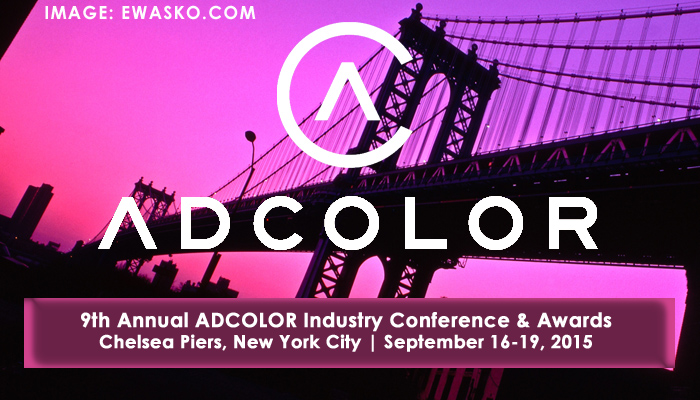 Featured Video: The 8th Annual ADCOLOR Awards Sponsor Highlight Reel
Featured Image: America's Moments 2 - Inspiration NYC F Magic by Tommy Ewasko. "Manhattan Bridge from Fulton Street at dusk." Order art prints, photo products and more here.