Goldfrapp "Tales Of Us" film + concert returns to theaters March 25 + 27
Everyone at the international commercial production company Cap Gun Collective is very proud to inform you that the 35-minute Goldfrapp "Tales Of Us" film which debuted in cities around the world on Tuesday, March 4, is now set to return to many of the same cinemas on March 25 and 27. Each screening will include a dramatic performance by Goldfrapp. Screening cities still include New York, Los Angeles, Miami, Toronto, San Francisco, Atlanta, Chicago, Seattle, as well as cinemas across the United Kingdom, Germany, The Netherlands, Austria, Australia, New Zealand and beyond.
The film was produced by Cap Gun Collective for Mute Records, written and directed by Lisa Gunning of Whitehouse Post and features VFX artistry from Carbon VFX.
The latest information on Goldfrapp albums, tour dates, screenings and tickets is available here:

http://goldfrapp.com/film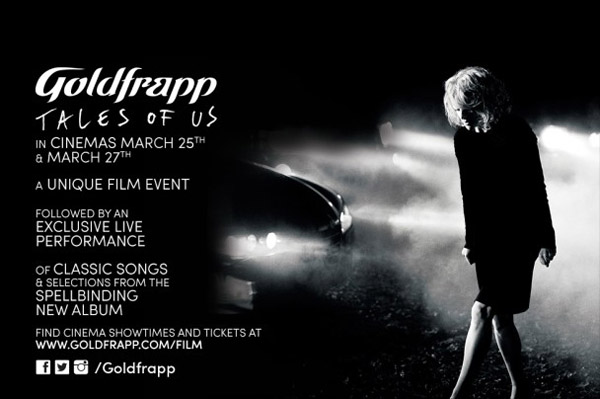 Featured Video: "Making Of Tales Of Us" from Mute Records, produced by MJS Film and directed by Mike Simpson.