Happy F5 everyone!
This Friday and Saturday, April 15 and 16, the F5 Festival (a Motionographer.com initiative) will take over New York City's Roseland Ballroom (239 West 52nd Street, between Broadway and 8th Avenue), where the presenters and attendees will be among the world's finest filmmakers, artists and creative industry executives. I regret that I won't be able to attend, but here are just a few highlights of the affair I'd be front-and-center for if I could (full schedule is here).
. On both mornings, Brand New School's managing director Danny Rosenbloom will join nine other industry leaders in Motion Graphics Industry Roundtable discussions ultimately aimed at crafting a Code of Standards tailored to the motion design industry. Given the major role he's forged in recent industry negotiations through his leadership position with the AICP, Danny's a wise choice.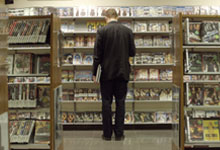 . On Friday evening at 6:30pm, filmmakers David Dworsky and Victor Köhler of Stockholm-based House of Radon will address the festival, before screening their buzz-worthy documentary feature entitled PressPausePlay. This fascinating study of cultural creativity and the digital revolution had its world premiere at the recent SXSW Film Festival, and among many industry luminaries, it features Tracy Chandler and Andre Stringer, two of the principals of famed creative production company Shilo. The film will also be appearing at upcoming festivals in Cleveland, Newport Beach, Santa Cruz, Seattle, Atlanta, Sydney, Amsterdam and other major fests and television venues. For more information, please visit PressPausePlay.
. On Saturday afternoon at 3:20pm, Joe Burrascano of fun-loving NYC animation studio Nathan Love will share some secrets from their growing success in doing great work, and inspiring their crew, their clients, and fans worldwide.
Break a leg my friends; wishing you all a great time at F5 2011.

Top: "Jump" designed and directed by Hi-Sim at RSA Animation, London. Animation: Scott Pleydell Pearce. Composer: Paul Farrer. Sound Design: Pete Howell. Part of the F5 2011 RE:PLAY Film Festival. Middle: Official Trailer for PressPausePlay.