Spinifex Group and GPJ for Nissan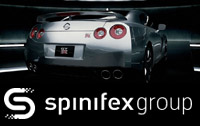 Working in close collaboration with creatives from experience marketing agency George P. Johnson (GPJ), Spinifex Group has built an extensive track record in creating quality branded content for Nissan which has been distributed worldwide and used in countless ways. In October, 2008, the release of the new Nissan 370Z coincided with the launch of "Need for Speed" from EA Games. Building the release campaign around "Need for Speed," Spinifex joined efforts with executives from EA Games in Canada to create a reveal video, which Nissan later distributed as a sensational cinema trailer. For more information, please visit Nissan 370Z Brand Film from Spinifex Group.

Nissan 370Z from Spinifex Group on Vimeo.
Client: Nissan Agency: George P. Johnson Creative & Production: Spinifex Group
Creative Leads: Matt Lock, James Schofield, Achim John, Richard Lindsay
2D Artists: Matt Lock, James Schofield, Achim John, Jamie Tufrey
3D Artists: Joung Lee
3D Compositing: Fin Design