Lessons on professionalism, persistence and "Endurance" from artist Theresa Ortolani

Two years ago, I attended a publishing workshop hosted by Kiki Bauer, senior designer for
powerHouse Books
, at the powerHouse Arena in Brooklyn. Six of us attended, each eager to discuss our very specific idea for a brilliantly conceived, beautiful and riveting coffee-table book like those famously published by powerHouse. Theresa, Lori, Brad, Debra, John-Michael and I all presented our pet projects to Kiki on that day, and I'll bet the rest of our classmates are as proud as I am to see that Theresa has persevered in seeing hers through, and getting it into print:
"Endurance" published by powerHouse Books, is now available for purchase
. In fact, the official launch party is happening at powerHouse Arena on Thurs., Dec. 3. More information on Theresa Ortolani, "Endurance" and this very cool upcoming event follow below.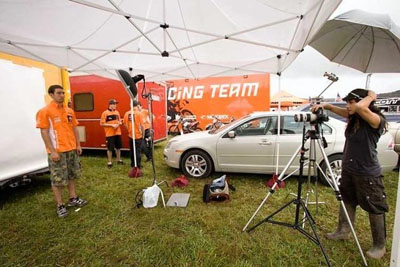 Nathan Kanney and Theresa Ortolani. Photo by Ryan Zimmerman.
Brooklyn-based photographer Theresa Ortolani is a BFA graduate from the School of Visual Arts at Boston University who earned the Sojourner Truth Fellowship for Graduate Studies in Fine Art Photography. She has developed and directed photography programs in conjunction with the Ansel Adams Center, the San Francisco Art Institute, NYU, and SUNY. When not dodging dirt bikes or setting stuntmen aflame for her upcoming release, "Don't Try This at Home," she spends time in New Paltz, NY.
Nathan "Nate" Kanney, the main subject of "Endurance," crashed his dirt bike and ruptured his spleen during the 2004 International Six Days Enduro race in Poland, but kept on riding until he was pulled from the race and rushed to a local hospital for emergency surgery. Though he narrowly escaped with his life on that day, Kanney was undaunted in his quest. Theresa was on-hand two years later to capture Nate winning a Grand National Cross Country race as a privateer, where he rode against world champions riding bikes three times costlier than his. Over the three years that followed, Theresa traveled thousands of miles across the U.S. and Europe to document Nate's remarkable ascent from underdog privateer to Husqvarna and KTM Factory Team rider.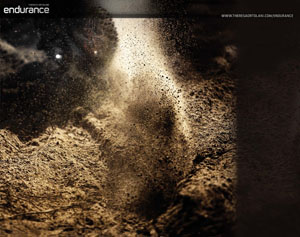 As you'll see if you visit the book's official website at www.TheresaOrtolani.com/Endurance, through Theresa's artistry, the high-adrenaline international sport of dirt bike racing is shown to be beautiful – and inescapably brutal. When she showed her images to Kiki and the rest of us in 2007, and told us about the project, her professionalism and talents were impressive, and so was her focus. Clearly, she found the right track to success in publishing what is obviously an amazing book.
Endurance is an 8.5 x 11, 160 page hardcover book with expertly crafted four-color photographs – featuring world champion off-road motorcycle legends, rising stars and celebrity announcers including: Nathan Kanney, David Knight, Travis Pastrana, Kailub Russell, Corey Buttrick, Homero Diaz, Ryan Mills, Anders Eriksson, Bartosz Oblucki, Ezra Dyer, Jerry Bernardo, Carrie Coombs Russell and Jason Weigandt.
"Ortolani applies an artist's eye to this unforgiving sport and the riders who pursue it, resulting in an unprecedented, behind-the-scenes window into this punishing competition." – Ezra Dyer

"The same experiences we've poured out of our boots and tried in vain to relate to concerned family members come alive on the pages of Endurance, making it like no other moto-photo book I've seen." – Dan Paris, Direct Motocross

"….the best off-road lifestyle photography I've seen. Theresa Ortolani has captured the essence of an off-road racer's pain and glory in a great looking, great reading book." – Jesse Ziegler, Dirt Rider 12/09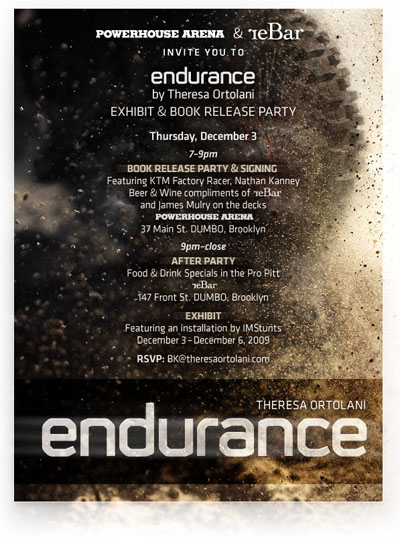 The powerHouse Arena and reBar are pleased to invite you to the launch party for the book and exhibition: ENDURANCE: Down and Dirty Off-Road Racing by Theresa Ortolani. Set for Thursday, Dec. 3, the book release party and signing at powerHouse Arena featuring Nate Kanney in attendance and James Mulry on the decks will be followed by an after party at reBar. A custom art installation by IMStunts, Inc. will debut that evening and stay on display at powerHouse Arena through Dec. 6. Please click here to RSVP for the event, or by sending an email to [email protected].
You can become a fan of the project on Facebook by visiting this link.
Congratulations on your well earned success, Theresa, and thank you for showing us all how it's done.

Team Red Bull/KTM's Nate Kanney takes the win at the 2008 Ironman GNCC in Crawfordsville, Indiana. More information is available online at www.kanney116.com.