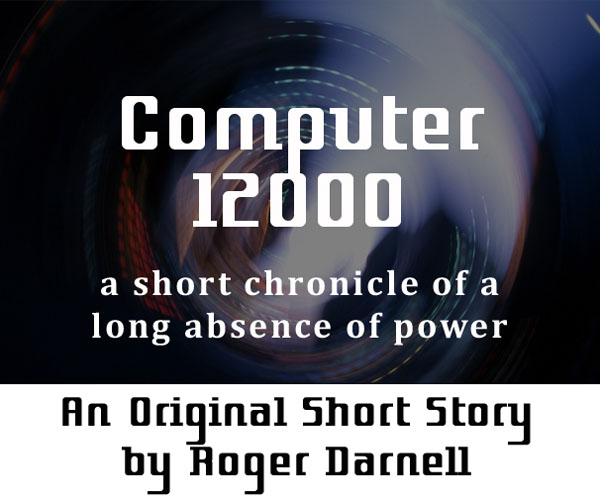 COMPUTER 12,000
by
Roger Darnell

Copyright © Roger Darnell 2012
All Rights Reserved
Complete blackness veils Armstrong, sitting in age-old spot in space once known both as "living room" and "office" by owner of long-ago disconnected home, now set in increasingly bad neighborhood in suburban East Los Angeles. Dull sound like chirping crickets is all Armstrong knows besides black vagueness, odd lights and vacant memories.
Crickets raise subtle din in reality, just as depth of night slides past nanosecond by nanosecond.
Moon invades home through windows in living room and front door, and in kitchen's door and above its sink. Foreboding shadows of night filter home's front rooms and dusty, aging contents as though radiating darkness in through thick trees outside. Faint light-wisps trace former owner's abandoned living room furnishings: couch, chairs, tables, light fixtures, full bookshelf adorned with old-fashioned slide and movie projection equipment, each one aiming out its concave lens in starved surveillance.
Oscillation fans also from by-gone era further decorate far wall.
Set in corner against near wall is fifty-inch flat panel television monitor with 1930s-style radio receiver set on top.
Near there, centered on main wall, is desk… upon which rests 27-inch LCD computer display, keyboard and trackball – all wireless – and below which stands slim computer tower, plugged into lifeless power strip and other small, important-looking devices. Inside CPU is Armstrong… or at least, was. Whether or not he will ever again be remains unknown. Read more