Rare Air Episode 20 and May 2017 desktop calendar
An original desktop calendar for May appears at the bottom of this post.
So far in life, we have only visited Saint John one time – it was our "vacation of vacations" last June, as you can read in other entries I've shared in the past. When I tell you that Beth and I are set to return this July, you probably won't be very surprised. I don't know how often we'll make it there, but I've been pining away for the next trip since we booked it earlier this year.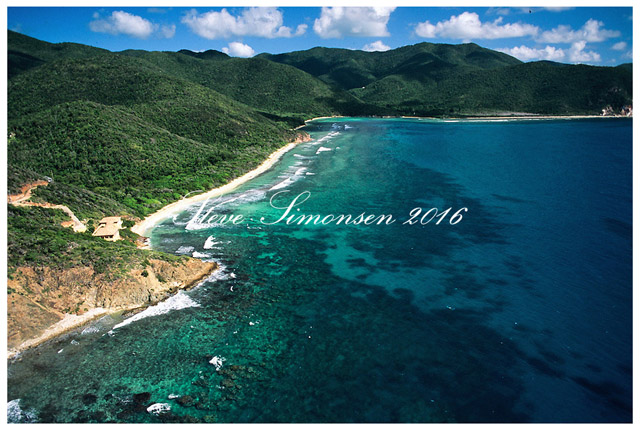 This image by photographer Steve Simonsen provides a bird's eye view of
Reef Bay Beach
on the south side of Saint John, where I shot the footage used in Rare Air episode 20. Even before arriving on our first trip, Beth and I were excited to read about this more-or-less private beach that was reportedly in walking distance from our
villa
. Within two hours of arriving there, we confirmed the tip… taking our well-being into our hands on an adventurous short hike that led us down a perilous foot path to this very beach, which we found empty except for two other swimmers.
The patch of woods that surrounded us during our descent and before we emerged onto the beach was eery, dark and majestic, evoking a strong, quiet patience that was both calm and moderately unnerving. I recall, it really made me want to run through it to get to the beach, or back up the trail to our neighborhood.
Virtually every modern guide to Saint John references a 1975 book written by John Lorenzo Anderson named "Night of the Silent Drums," which chronicles the "true and gripping tale of the St. John slave rebellion" of 1733. I am reading it now. Thinking back to those few moments I spent alone under the shadowy canopy of the island's scrubby forest, it's very easy to imagine the rogue "marons" scratching out existence as runaway renegades… trying desperately to find their way to freedom, and easily able to remain concealed forever, if not for the excruciating absence of potable water.
I hope you enjoy Rare Air episode 20 above and the May desktop calendar below… and that you're able to enjoy freedom in nature to your heart's content.
Featured Video: Rare Air Episode 20