Rare Air Episode 16: Saint John, U.S. Virgin Islands
Scroll way down for an original desktop calendar for September.
Thank you for joining me here to ring in the autumn of 2016 and sample some of the experiences gathered earlier this year in Saint John, U.S. Virgin Islands. I have referred to it as our vacation of vacations, giving you a sense of how much fun you'll have when you go. The day I shot the footage appearing in Rare Air episode 16 is one I will never forget.
Before leaving Asheville for this vacation, I took a moment to choose a book to entertain me during the travel and down moments to come. The selection narrowed to two recent finds, one of which was "A Lady's Life in the Rocky Mountains" by Isabella Bird. That's what I went with. Flipping its first pages during the dawn flight to Saint Thomas, reading the carefully curated words some 143 years after they were originally written had many impressive effects. I credit Ms. Bird with setting the highest standard for travel writing, thereby altering the way I look and see… and for deepening my passion for great writing. Thanks to that remarkable person – who galloped alone on horseback across the Wild West, and expertly captured her tall experiences in inspired language – my journal entries even gained a new aspiration: To use her word, sublimity… which is the state or quality of being sublime. Her chapters made such an impact on me that I'm encouraged to keep trying to offer others inspiration from my travels. The photos and videos are gaining fans.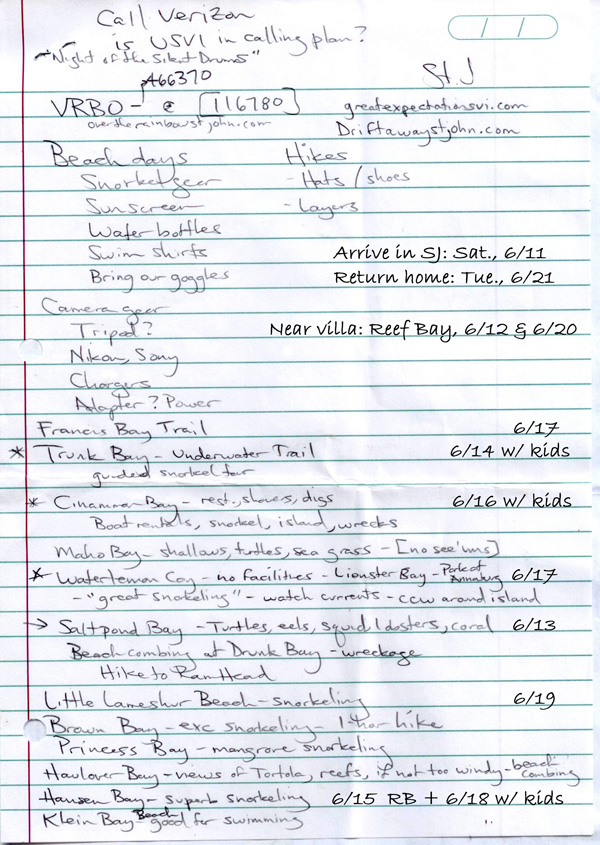 Two other books were important for planning this vacation. My oft-mentioned Stone Road Press "Guide to National Parks" gave us a solid overview, and Beth also downloaded Pam Griffin's "St. John Feet, Fins and Four Wheel Drive" into her Kindle. By going through that book with a map, we were able to research cool places to go all around the island. That key led us to treasure every day of our journey.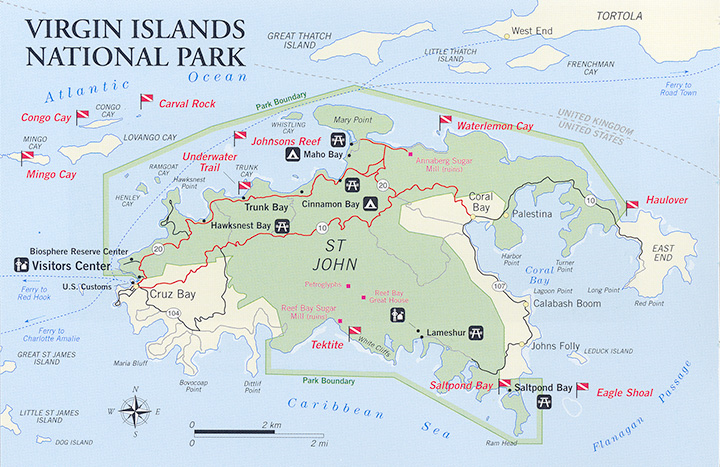 Take a look at this map of Saint John. At the top and in the middle, you will see Mary Point. Now, if you look at the calendar image (which matches the Episode 16 footage), the green mountain rising up on the left-hand side of the frame is the eastern end of Mary Point, which has some interesting history.
At about 11am on Friday, June 17 – fresh from a morning sitting poolside at the highly recommended Over The Rainbow villa, reading Ms. Bird's book and then checking-in at work by email – Beth and I took off for Waterlemon Cay. For the previous five days on the island, I had largely focused on capturing video footage underwater using a Panasonic Lumix DMC-TS25 camera purchased just for the trip. Unfortunately, that died while we were at Hansen Bay the day before. I consider the footage shown here to be a silver lining, since I only captured it due to focusing on dry land photography. Here are some of my notes from a day I will revisit again here soon. Remember you can click on the photo below to download a high-resolution September desktop calendar.
I hope you enjoy the words and Rare Air episode 16, and I look forward to hearing from you any time.
Our departing route for the day led us back to the 104, then up to the 10, east to Columbo's Smoothies, where of course we stopped for the day's special, plus a canned Corona for our cooler… then north on the 20 to the "Francis Bay / Annaberg" T, where we ventured out to the parking lot at the ruins of the Annaberg Sugar Mill. From there, we took off on foot along the flat bayside trail. After experiencing the challenging hike to Ram Head, this trail to Waterlemon Bay was about the only type of pathway I felt up to hiking. At its end, we found another new favorite locale. We were not alone, which is a welcome situation in such a wilderness where we are intending to challenge fate even more by venturing into the waves… but thankfully, the spot was not overcrowded.

This is the point where the camera came into play, and I greedily shot four different "Rare Air" clippings over the next hour, there at the trail's end, and back where it started near the Annaberg parking lot. We extended the foray by driving on down to Francis Bay and having another quick dip. Then we truly upped our game, deciding while en route back to Cruz Bay that we would pay a visit to Caneel Bay Resort….
Featured Video: Rare Air Episode 16