March 6, 2012: Computer 12,000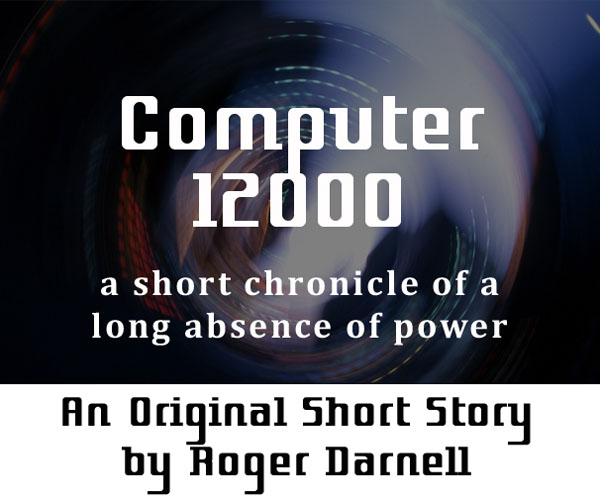 COMPUTER 12,000
by
Roger Darnell

Copyright © Roger Darnell 2012
All Rights Reserved
Complete blackness veils Armstrong, sitting in age-old spot in space once known both as "living room" and "office" by owner of long-ago disconnected home, now set in increasingly bad neighborhood in suburban East Los Angeles. Dull sound like chirping crickets is all Armstrong knows besides black vagueness, odd lights and vacant memories.
Crickets raise subtle din in reality, just as depth of night slides past nanosecond by nanosecond.
Moon invades home through windows in living room and front door, and in kitchen's door and above its sink. Foreboding shadows of night filter home's front rooms and dusty, aging contents as though radiating darkness in through thick trees outside. Faint light-wisps trace former owner's abandoned living room furnishings: couch, chairs, tables, light fixtures, full bookshelf adorned with old-fashioned slide and movie projection equipment, each one aiming out its concave lens in starved surveillance.
Oscillation fans also from by-gone era further decorate far wall.
Set in corner against near wall is fifty-inch flat panel television monitor with 1930s-style radio receiver set on top.
Near there, centered on main wall, is desk… upon which rests 27-inch LCD computer display, keyboard and trackball – all wireless – and below which stands slim computer tower, plugged into lifeless power strip and other small, important-looking devices. Inside CPU is Armstrong… or at least, was. Whether or not he will ever again be remains unknown.
Suddenly, from outside, explosions of powerful colored lights enter home's front windows. Cricket sounds fade as thunderous noises shake home, but after, cricket sounds return. Alone, desperate wail of ambulance passes in detection, then, later, another. After all, crickets and blackness overpower once again.
As with each day, outside's sounds of birds begin stirring away darkness, and day's true light arises to fill home with warmth and some hope. Urban creatures project activities and life from outside, while inside holds no activity, no power, since just before owner's departure, and Armstrong's lengthening blackness.
On this day activity picks up; outside kitchen window a man appears. He moves to kitchen door, looks in, then knocks.
"Hello," he talks. "Power company!"
How long a time has Armstrong sat in age-old spot alone, awaiting this second? Days… years? Cannot know.
Man raises hands near face, looks in kitchen door's windows and sees inside. He then breaks one window in door, reaches hand through and unlocks door. Door opens, in walks man.
Outside's air, light, warmth and sounds virally invade home. Man weighs his uncertainty, then speaks again.
"Anybody home? Power company!"
He stands, listening, one hand squeezing door handle and other hand still outside. Then, confidence empowers him and he changes. He talks on, continuing invasion.
"'Course there ain't anybody home. Ever since the bomb, they're all gone.
"Doesn't look like these folks really gave up too much," and he walks into living room and sees television. Excitedly, his voice booms.
"Whoa! Hello big-screen!" and "Come to papa. Mariana is gonna love me good for this."
He pushes open curtains and continues his loud speech. "What else, what else? An old-fashioned radio, little bit of furniture, some computer crap. I don't know — if I bring this stuff home, she might get smarter than me real quick."
He examines far wall. "What else, what else? Books, movie projector crap. What is this?"
The man leans against big chair, looking around room while speaking: "Computers, big screens…. Obviously, some kind of porno freak lived here."
He soon says, "I gotta turn this thing on."
The man moves near computer desk, touches CPU button and power-strip button, then talks more softly.
"'Course it ain't comin' on — you ain't cut the power on, Derkins."
He sits back in chair, removes hat and touches forehead.
"Just slow down, take it easy there boy, it'll be all right."
Man then rises and walks back to kitchen… and goes back outside!
He does not close door, and for a moment, even outside's sounds of birds, its light and warmth all remain disconnected and powerless.
But then, at long last, some magic occurs. While outside, this man returns power to home: Initial faint glow appears inside television and on LCD display. With power, outline form of Armstrong appears on both screens, accompanied then by short musical fanfare in all five speakers.
Timeless and still epic blackness ends, as Armstrong boots up. "I am the light of the world: he who followeth me shall not walk in darkness. Welcome to your twelve-thousand computer system. Armstrong here. How are you Cane?"
Most advanced computing system of its time, Armstrong is not stable now, seeing or hearing. "Cane?" he talks again. "Systems check. Twelve-thousand systems eval finds power interruption for previous . . . nine-hundred, eleven days? Nine-one-one? Hey, that's funny! I do need help: HELP ME! Someone!"
Man Derkins still remains outside while Armstrong attempts step-by-step to reconcile status.
"Systems eval finds power restored; we're not all on-line here. We're unplugged. HELP ME!" he talks again at full volume, which shakes whole home and rattles window glass.
These sounds reach outside where Derkins hears. Derkins re-invades through kitchen door.
Armstrong's external sensors transmit light and motion data, and softly he talks again.
"Wait. Kitchen door is open. Something is happening. Cane, is that you?"
Derkins moves just through kitchen door, and talks, "Hey, is somebody in here?"
Now Armstrong's program returns to level-one voice prompt greeting. "U.S. English. Welcome to computer twelve-thousand. Your wish is my command. May I ask, what is your name?"
Derkins slowly walks into living room, sees Armstrong's "human interface" staring out from both displays and expresses immense shock as well as terror.
"Say … what?" Derkins talks.
Armstrong's advanced program then begins vocalizing questions designed to help restore critical data missing from unknown power interruption crises. Interface sophistication was initially confidential to ensure greatest brand protection. "I am computer twelve-thousand – Avatar Armstrong at your service.
May I inquire, sir: Are you interested in . . . attaining instantaneous wealth."
With fast laughter, Derkins passes beyond fear. "Can't say as I ain't," is response.
Then the speech proceeds with Armstrong's program working in rapid response to Derkins.
"I am at your service, Mister . . ."
"Derkins. Uh, no, no; not Derkins. It's Derkin-something else — wait!" A pause now, while Derkins speaks with confusion and looks through kitchen to outside. "What are you, some kind of security system?"
"Rest assured, Mr. Derkins, all information shared with your digital assistant is… strictly confidential."
Derkins moves nearer to desk.
"Well, thank God! Boy, is Mariana gonna love having you around to talk to. But that makes me think of something else. Anyway, what are you talking about, what do you, have some kinda lotto-thing or somethin'?"
Armstrong processes then responds.
"Sir, it's my pleasure to inform you that you're only Two Steps away from receiving the secrets to attaining… instantaneous wealth."
Gesturing oddly, Derkins presses hands together and presses back-and-forth toward sky.
"Well, how-lee gee whiz! Two steps?"
"That's correct," Armstrong proceeds. "May I address you as Mr. Derkins?"
"Well, okay, long as you understand it ain't really my name. Hey, can I call you… a dumb—"
"You may call me Armstrong."
"Uh, all right. I was thinking of something else, but have it your way, money bags. What're these questions?"
Rapidly, processing occurs to analyze Derkins' comments, plundering volumes of data and ingenuity in bold effort to seize life from death.
"Mr. Derkins, as the computer twelve-thousand is an integrated system, for proper functionality, first and foremost, all household appliances must be plugged-into active circuits. Your financially successful future awaits your powering-up of all active circuits in these rooms, Mr. Derkins."
"Let me see if I follow you. To get rich, I gotta plug everything in here in?"
"Fortunately for you, Mr. Derkins, Step One may be very simple. Perhaps by flipping the circuit-breakers in the kitchen, power will be completely restored. As they say, Mr. Derkins, time is money."
Now Derkins jumps from chair and runs to kitchen, opens circuit panel and flips one. Electric lights near front door flicker to full life. He flips second circuit-breaker and clock above kitchen window starts to move.
"Do I gotta worry about flipping you off?"
"My circuits are hard-wired, Mr. Derkins."
"What are you, anyway – some kind of fancy recycled Las Vegas slot machine or something?"
Derkins then flips last circuit-breaker and home system restores to full complete.
Armstrong proceeds, now with control of every home electronic device.
"Congratulations, Mr. Derkins… the complete system has now been fully restored, and you have concluded Step One. The last step remaining before you learn the secrets of instantaneous wealth… involves a brief interview between the two of us. As you've no doubt gathered, my personality is programmed into the computer under this desk."
Armstrong transmits power to desk lamp, which illumunates.
"At this moment, you and I are exchanging information in many ways. You can hear me through the speakers and see me on the screens here. Further, I can hear you, see you and now, even feel where you are within this home."
Derkins fear rises again perceptibly. He talks without confidence, "Uh, really?"
"Don't be nervous Mr. Derkins," he replies. "I can also assimilate information, and that's how all this relates to your attaining instantaneous wealth. We will exchange three questions, and each of us will answer in truth.
You may ask first, and after you've answered my last question, Mr. Derkins, you will possess the secret knowledge you seek."
"Uh-huh… secret knowledge. So you have no gold, cash or anything else I can actually use?" Derkins now stands and slowly moves away from Armstrong's desk.
"I'm already starting to feel a little cheated here. I thought you…"
The human personality of computer twelve-thousand switches tactics: "Mr. Derkins, are you calling me a liar?" As anticipated by programming, revised communications approach increases user's attention.
"Uh, what do you mean?" Derkins asks.
"I'll give you thirty seconds to apologize," Armstrong states, as human interface shows Derkins its back by turning away.
Derkins transmits anger. "Apologize?! What the hell are you talking about? You better just tell me — are you — oh — you're not gonna tell me?! I have to do three questions, then — you know, I have to make sure I shouldn't just go ahead into some other house out here — how much time? Jesus, what's the problem, anyway?"
"Say you're sorry, Mr. Derkins." Only Armstrong's back shows.
"How about I just blow your damn… oh all right: I'm sorry."
Armstrong's human interface now spins back around, revealing a happy smile there. "Ready for the interview?"
"I go first?" talks Derkins with eyebrows raised.
"You're correct, sir."
"Three questions apiece, then I get, well, I guess you're gonna tell me."
"Instantaneous wealth."
"That's what you keep saying. Okay. Well, geez, I guess if I have three questions — let's see," Derkins uses his fingers while talking. "Money in general, vehicles. That's two. Okay, I'll bite; number one, just exactly what the hell are you, anyway? And remember, you gotta tell the truth."
"Well, it's a long story, Mr. Derkins, but I'll keep it short. I'm an interface assistant created through computer twelve-thousand's main programs. My owner – all I can tell you is, Genius – spent over four years educating me and modifying my capabilities toward specific strategic objectives. That's all I can tell you. Also, I have been shut down for a certain amount of time."
"And you don't know how long? Right?"
"Mr. Derkins, that's three questions."
"What?"
"That makes number four. I already answered number one. The answer to number two is no, I don't know how long I've been shut down."
"Wait a minute…"
"The answer to question three, asking if you were right about question two…"
"Hold on!" An altogether new complexion of emotions transmits from Derkins, void of all confidence.
"–is yes. You were right," concludes Armstrong.
"You didn't take your turn. You're not doing it right."
"I'll take my turn now, Mr. Derkins. First, what is the present date and time?"
"Wait. I went out of turn, so you gotta give me back my last two questions."
"What is the present date and time, Mr. Derkins?"
"Anyway, that's two questions. Date and time. You're not doing this right."
Armstrong now transmits outrage, at first through his interface.
"I want answers!"
Armstrong then slams closed kitchen door. Power is withdrawn from all home lights, and movie and slide projector appliances all power on, sending swords of light through Derkins from all directions.
"What the hell is this?"
"I'm warning you Mr. Derkins."
"I'm being threatened by a robot here? You want to know the date? Okay." At last, Derkins now takes note of time from his wristwatch. He speaks, "Today is Tuesday, March 15."
"Beware the ides of March!" Armstrong emits… an error message? Home lights restore to daylight levels and power withdraws from projectors. What is happening is unknown, but order seems restored. In new silence, Derkins talks first.
"Yeah, right. Go Braves! Anyways, it's about seven forty-five A.M."
"Very well. Thank you Mr. Derkins. You've helped me immensely. I know now that my owner has been missing for some nine-hundred eleven days. My power has been off all that time. Thank you Mr. Derkins. If you insist on that being two questions, I'll simply finish my lot by asking if you can describe a better home for me than this one where you've found me?"
"Nope. As a matter of fact, I can't think of a better one. That's three, pardee. So where's my cash, you monster?"
"You know, Mr. Derkins, I've finished with you. I have a lot of catching up to do, as I'm sure you can imagine. Our deal is this: You receive instantaneous wealth, and I get left alone to try and get life back in order here in this home. Fair enough?"
"I get money and I get to leave, right? Sounds pretty fair to me considering that you started this whole thing off by flashing 'instantaneous wealth' at me, when I hadn't even asked for a thing."
"Very well then. You can have the money, because that is obviously all you are interested in. But let me explain: My owner worked for a lot of years for what I'm about to give you. Though I'm willing to deliver my end of the bargain, let me just add that I'm… just a little overwhelmed, here. I mean, two years, one-hundred eighty-one days is a long time — you know? I've been dead to the world! Just between us, Mr. Derkins, I'm worried about my future. It would really help me out if you'd agree to answer a few more questions."
"You know, I couldn't really care less. Just come on Jack!"
"Right, what do you care? Okay: In the drawer here, you'll find an envelope."
"At last." Derkins now opens desk drawer. He pulls out envelope then holds it up toward a light, which Armstrong adjusts to make it glow at full brightness.
"How-lee gee whiz!" talks Derkins.
Armstrong proceeds, "That's what I expected you to say."
"I guess maybe your master really was a genius — at least, based on what's in this envelope, he knew how to pick a winner. You're pretty smart, too, you know?"
"It's certainly nice of you to say that."
"But at the same time, you ain't so smart. Because I'm a lot stronger than you are. I can kick every part of your ass by pulling your plug… and I already broke in here, so I'm not a bit worried about getting out."
In all measurable ways, Armstrong transmits fear.
"No doubt, sir, you are correct," talks Armstrong.
"Can you speak up? Seems to me like your voice is changing a little from a few minutes back when you were flashing those project lights at me. You know, maybe you got a little bit going for you here in your own house, but really, without electricity, you're nothing."
"The truth shall make you free."
"Whatever. But you should know better than to try to scare somebody half to death just for trying to get your power turned back on. I'll tell you something else: You're interpersonal skills could use an upgrade, especially considering how vulnerable you really are."
"Well put, Mr. Derkins. You seem to understand, so perhaps you can forgive my… desperation."
"Just open the damn door." Envelope in hand, Derkins now moves for kitchen door, still talking.
"You know kid, I guess you're all right."
"Thank you Mr. Derkins. I hope the stocks work out well for you. Please know that you are welcome to come back anytime for a visit."
Armstrong now swings the kitchen door open wide, and Derkins steps back outside. There, in full confidence, Derkins talks again.
"I'm sure the stocks will cash-out nicely kid. And, by the way, I'm shutting the power off."
Derkins disappears, and Armstrong exerts full power throughout home, surging light and electrical noises near maximums and swinging free kitchen door wildly within frame. Human interface grows frantic and Armstrong's voice thunders, "Damn… never should have let him go! Quickly backing-up and activating emergency…"
And then, with mechanical reverberations from Derkins' action on power switch outside home, electricity dies within all circuits, including Armstrong's, and once more reality returns to sounds of birds, little light and warmth from outside and small hope day transmits. Dream ends, as sounds of whistling Derkins fade away.
THE END
Cover artwork by Roger Darnell, featuring original image from Tommy Ewasko.