June 1, 2001: Catching Up… Escape from LA, Part 3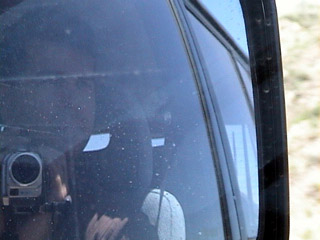 Friday, June 1, 2001: Catching Up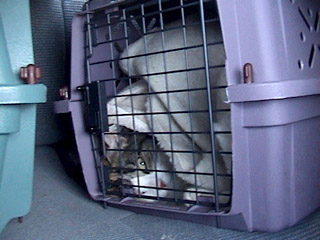 Waking up, of course, there they were, under the bed; and there I was, lifting the bed so Beth could scramble under to grab them, give each of our cats their 'medicine' and stow them in their carriers. This stuff is getting easier….
We'd settled into a nice hotel on night one, but still the sounds of the highway and the endless passing trains got us going early — or so we thought. We indulged in the free breakfast at the hotel's diner and, back in the room, I uploaded my "Countdown" message to you folks (and downloaded some 80+ work-related messages from that first day), and we moved out. Looking at the clock in the Montero, I realized we were still on Pacific time; I pushed the hour button twice to put us on Central time, and all of the sudden, it was 11am. "Ready for lunch?" we joked.

A picturesque mountain towers above Flagstaff; all our map tells us is that the peak is Pt. Humphrey, Arizona's highest at 12,663 feet. We watched it fade away in the rear-views, and then saw the landscape become a kaleidoscope of more harsh, dry, desert scenes.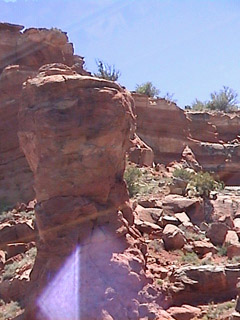 Still cruising along at 5,000 feet or so toward Albuquerque, the vistas included amazing canyons of all varieties, rolling hillsides of mint-green grasses and beige, orange and crimson-colored earth and boulders of all forms imaginable… including boulder mountains. Finally, the horizon flattened out and the hills rolled off in all directions, showing us treeless, wide-open prairies of grass, rimmed all around the outside perimeter by distinct mountains. Later came a bizarre stretch of road through a countryside ruined by the El Malpais lava beds. As far as we could see, the ground was made of crumbly black rocks that erupted from the earth's undulating surface. Even more weird, the property owners still felt the need to maintain fences on this stuff, so across these awkward, uneven hills and dips, I traced a fairly new fence marking off one piece of spoiled land from another. Sorry, we didn't get the number on the for-sale sign.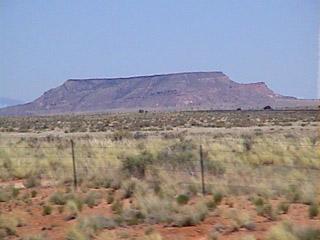 Albuquerque was hot… nearly 100 degrees. On we drove, eventually reaching the other side of New Mexico (of course, we picked up a couple of "Area 51″ souvenirs, and pointed at the famous row of Cadillacs buried in the ground as we sailed on past), attempting to gain ground on my onward-speeding father, who continued making record time according to the reports he was giving us throughout the day via cell phone. Texas and its huge fields, Amarillo and its 400+ advertised hotel rooms… all flew past; still, by day's end, BJ had at least 200 miles on us. We wound-down in Days Inn in a place beside the interstate called Elk City. We'd driven until at least an hour after dark and were totally beat. I tried getting hooked-up for email, but the remote hotel's phone system only toyed with me. I finally gave up on transmitting the record from day one to you all and gave in to sleep. The possibility of catching BJ was seeming more distant, but we planned to rise early to improve our day three odds….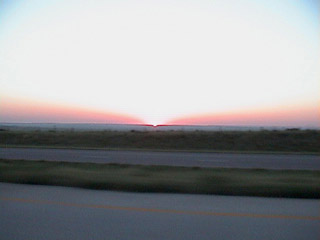 Escape from LA by Roger Darnell

. Countdown: Wednesday, May 30, 2001 – The Countdown Begins
. Day 1: Thursday, May 31, 2001 – Simply Grand
. Day 2: Friday, June 1, 2001 – Catching Up
. Day 3: Saturday, June 2, 2001 – Almost There
. Day 4: Sunday, June 3, 2001 – Home At Last…
Digital snapshots from our journey eastward.